Old Hickory Sheds of North Idaho
We're the Oldest, Most Experienced & Dedicated Dealer of Old Hickory Sheds in the USA
We've been in Coeur d'Alene for 11 years!
Come see us at 1418 W. Appleway across from WinCo and Lowes

Old Hickory Sheds of North Idaho
We're the Oldest, Most Experienced & Dedicated Dealer of Old Hickory Sheds in the USA
We've been in Coeur d'Alene for 11 years!
Come see us at 1418 W. Appleway across from WinCo and Lowes
Delivered from the Sales Lot or Factory to Your North Idaho Home, Ranch or Business and deliveries are FREE to
Athol, Bayview, Bonners Ferry, Cataldo, Cocolalla, Clark Fork, Coeur d'Alene, Dalton Gardens, Deary, Hauser, Haven, Hayden, Hayden Lake, Hope, Huetter, Kellogg, Lewiston,
Moscow, Mullan, Naples, Old Town, Osburn, Pinehurst, Plummer, Ponderay, Post Falls, Potlatch, Priest River, Priest Lake, Princeton, Rathdrum,
Troy, Twin Lakes, Sandpoint, Sagle, Smelterville, Spirit Lake, Stateline, Wallace, Worley … All of North Idaho
And Delivery is FREE up to 30 Miles from
Coeur d'Alene, Post Falls, Sandpoint, Ponderay, Priest, Kellogg, Lewiston, Moscow, Nine Mile Falls, Spokane, Airway Heights
The Old Hickory Tiny Room
Old Hickory Provides the Building
You Provide the Imagination
The Tiny Room/Cabin is either the Utility or Lofted Barn style.
Includes 1-Steel 9 Lite Window Door or we can deliver it with door and window frame outs you choose the size and location.
Interior walls is another option.
Available in Widths of 8′ 10′ 12′ 14′ & 16′ and lengths of 8 feet and up to 40′ feet.
Other options include 2×6 framing, 12″ on center floor joists, house style doors, windows, barn doors, a roll-up garage door, 3/4″ flooring, heaver snow loads, 3-tier shelves, a workbench, window shutters, dormer windows, overhead lofting, house wrap and interior walls.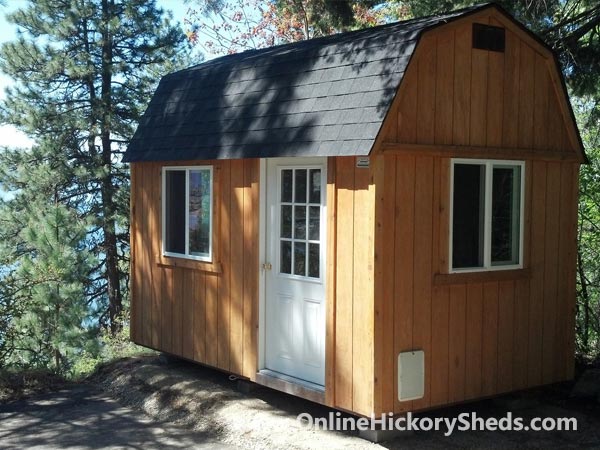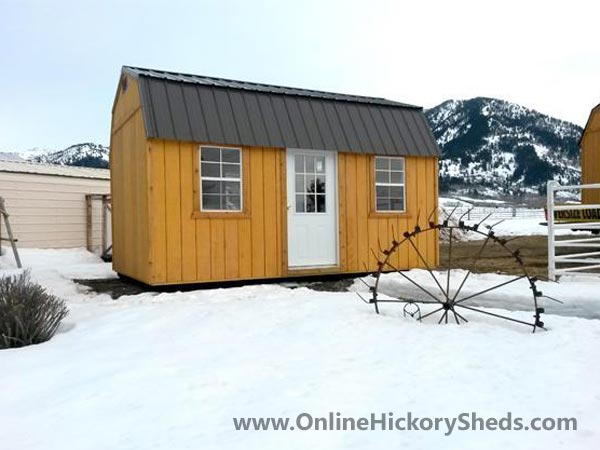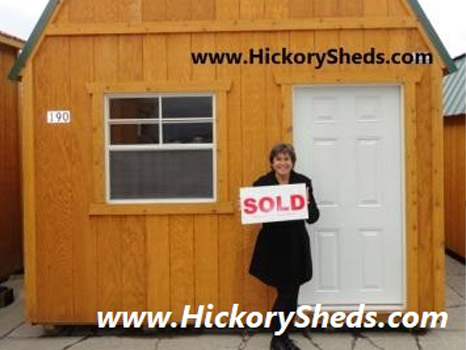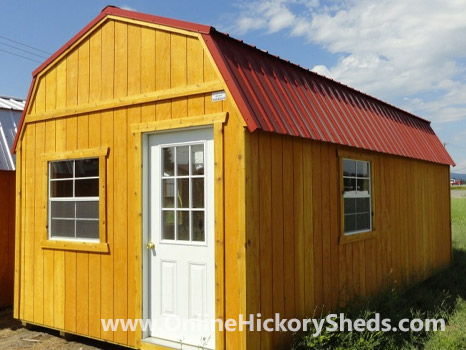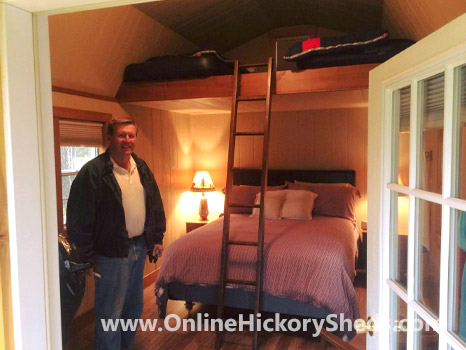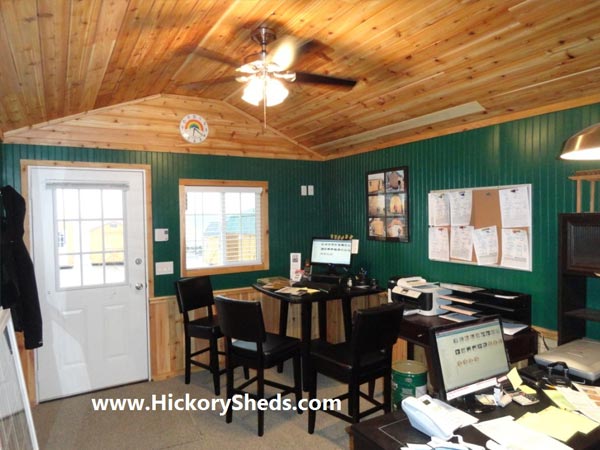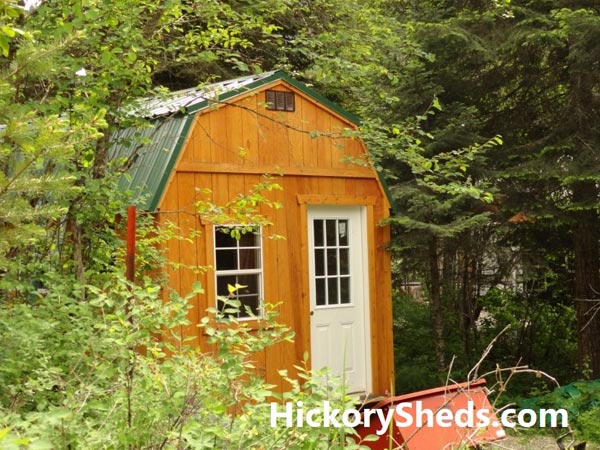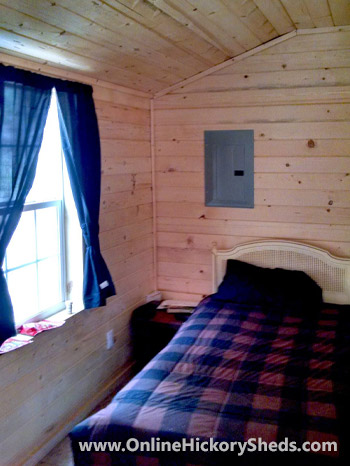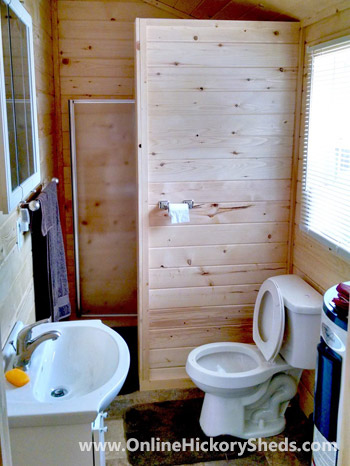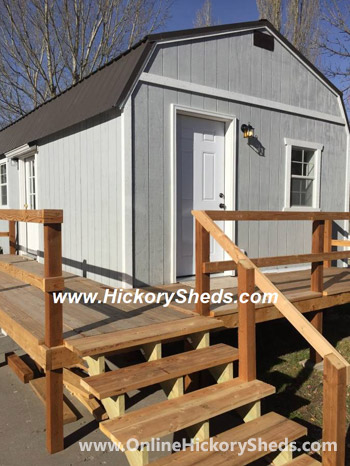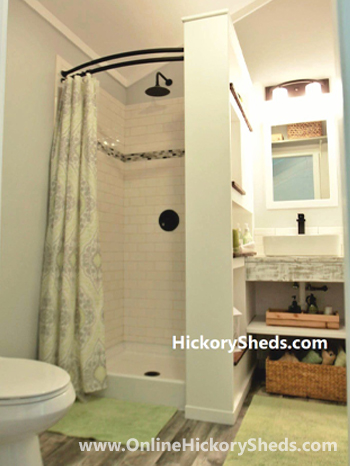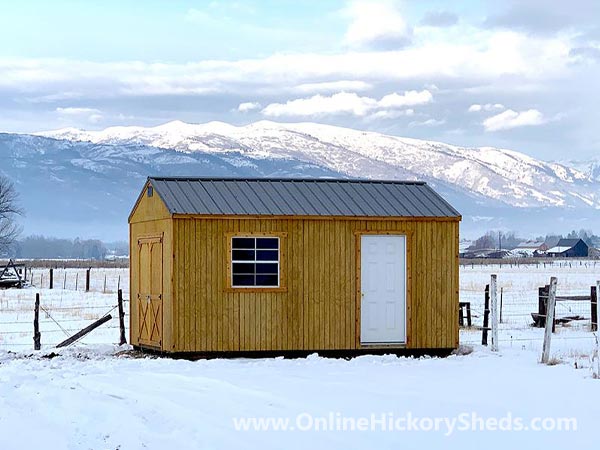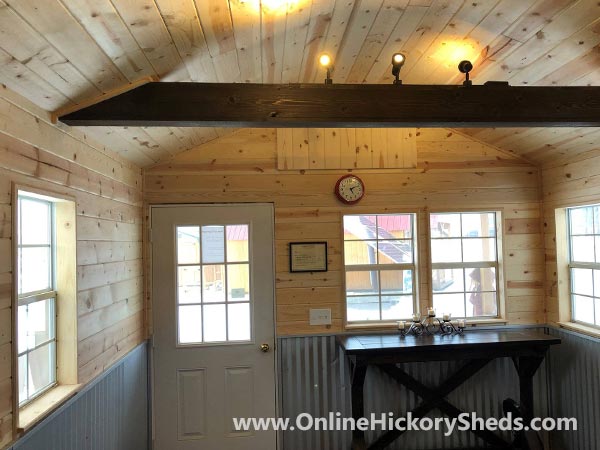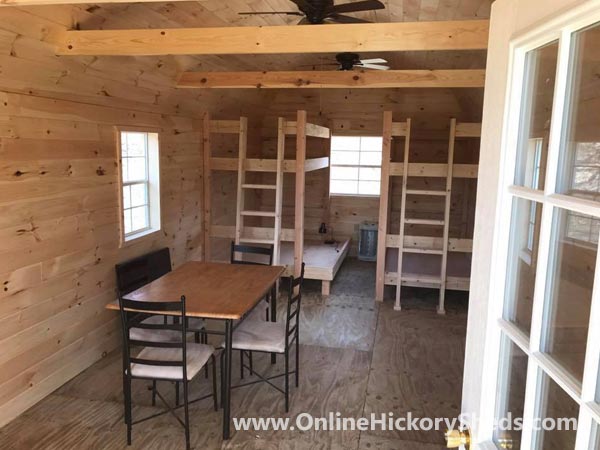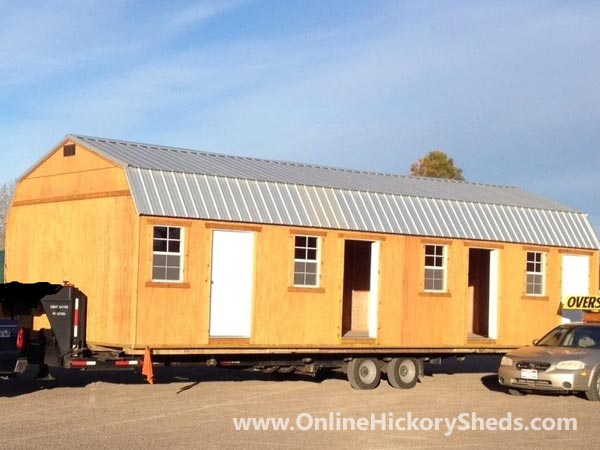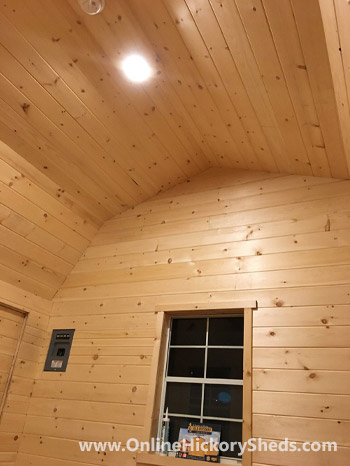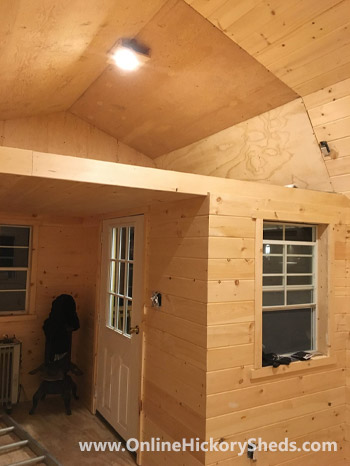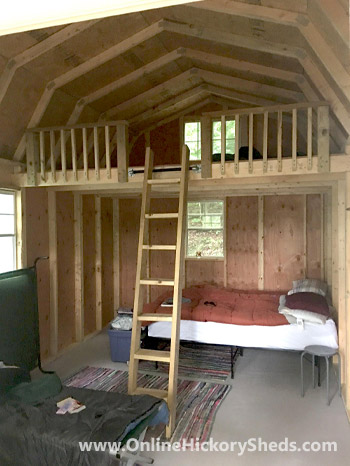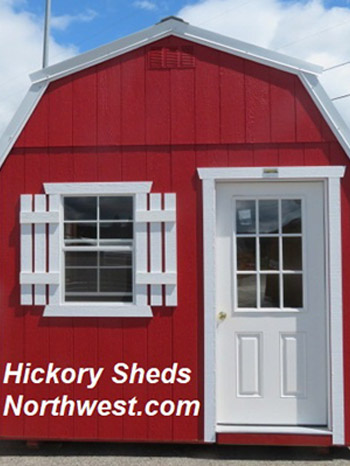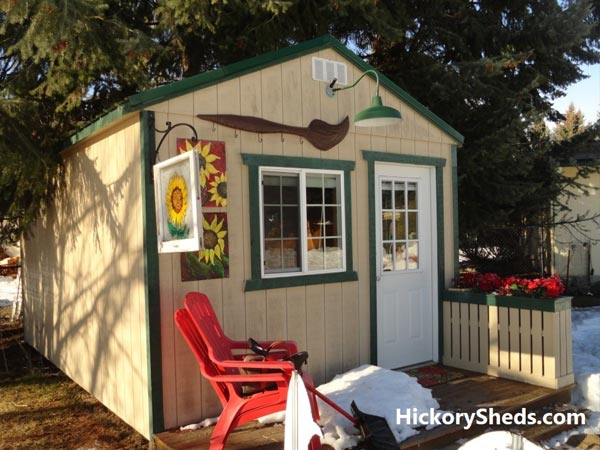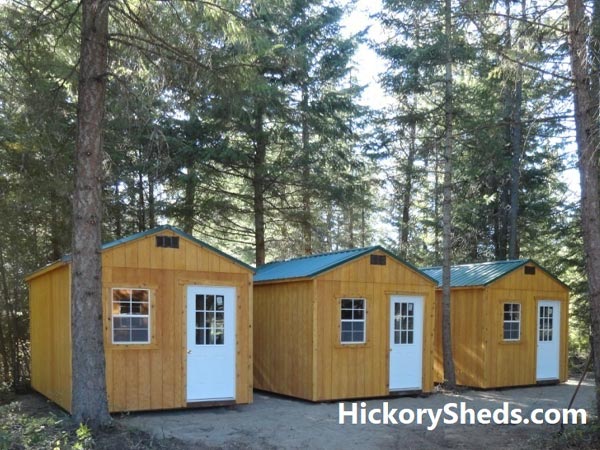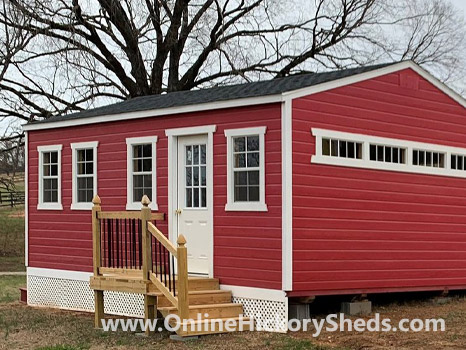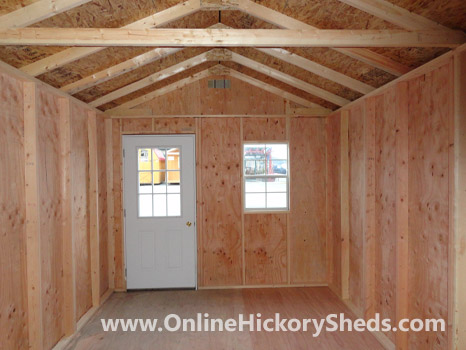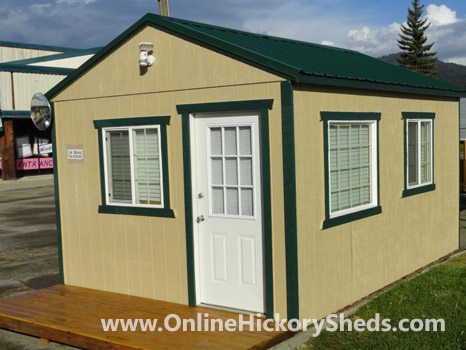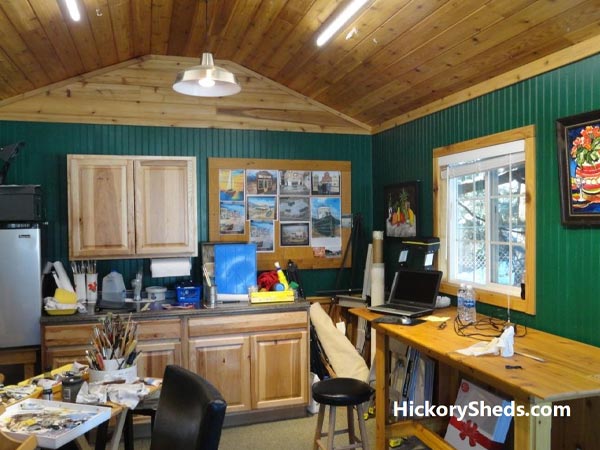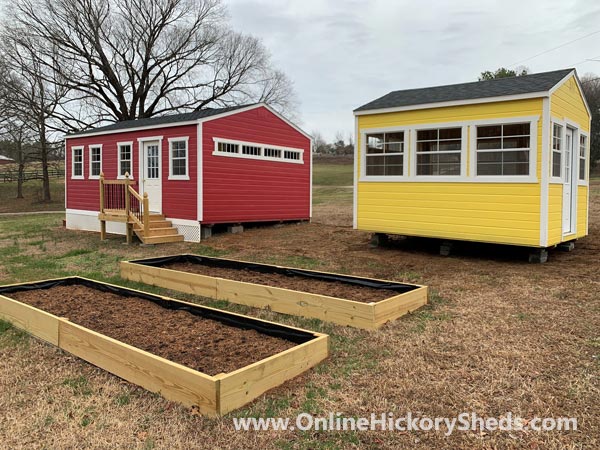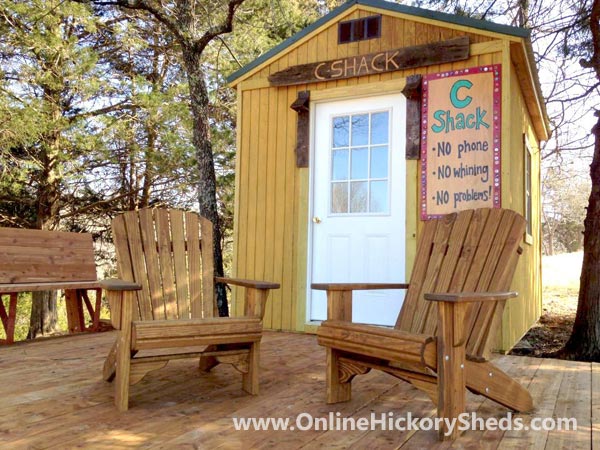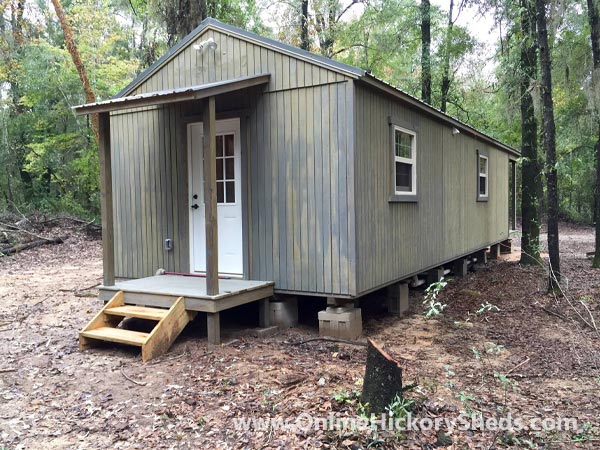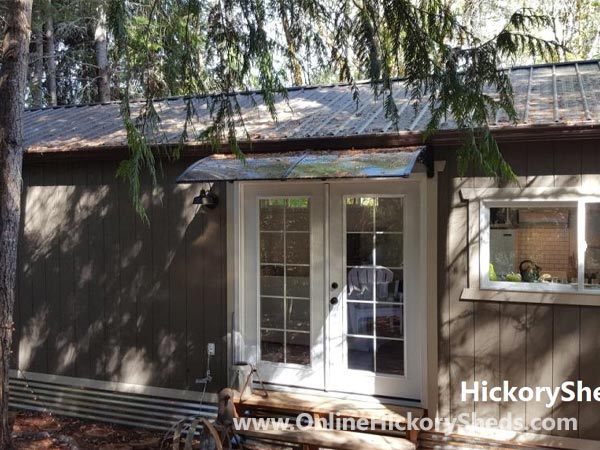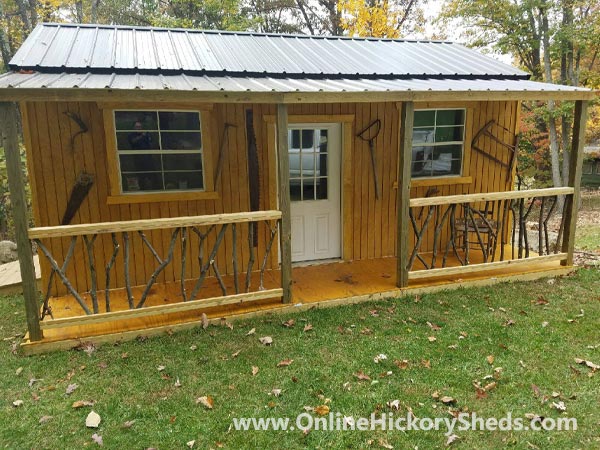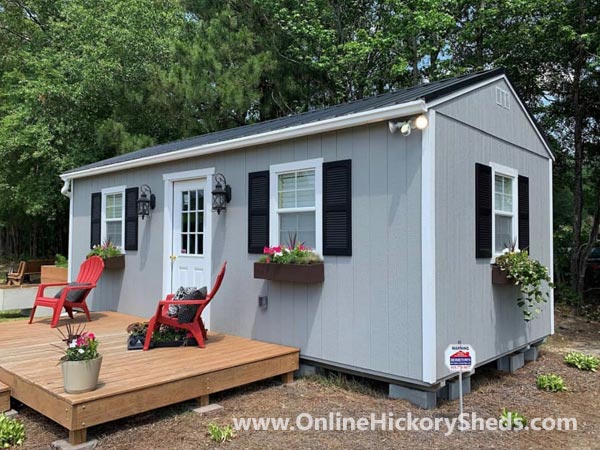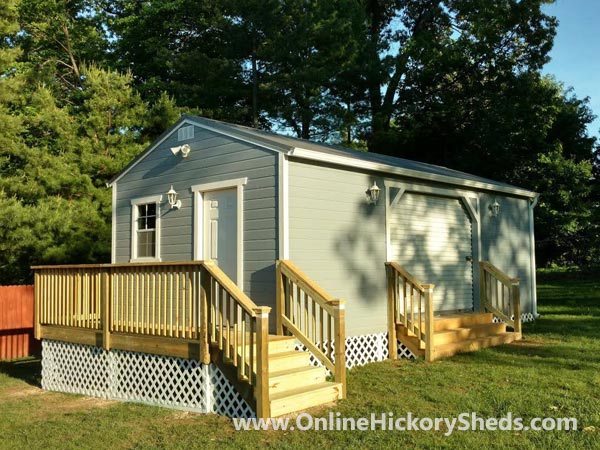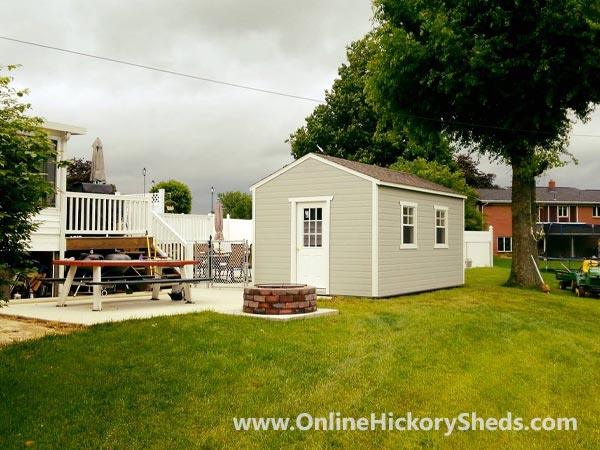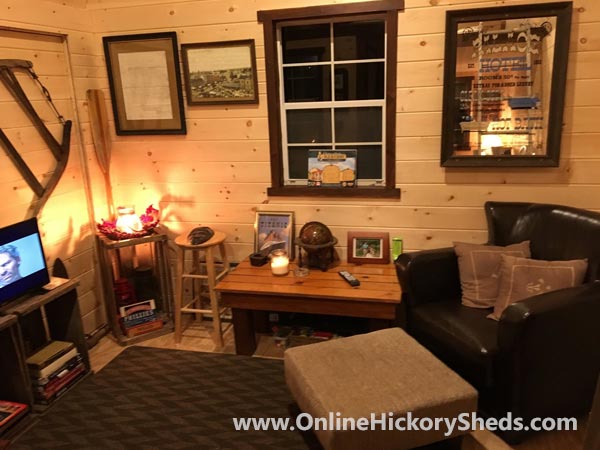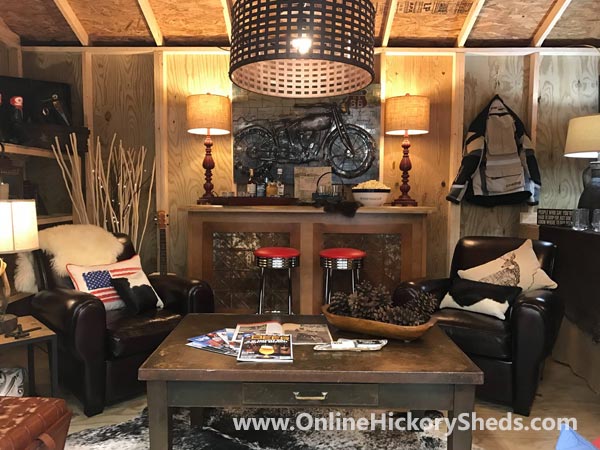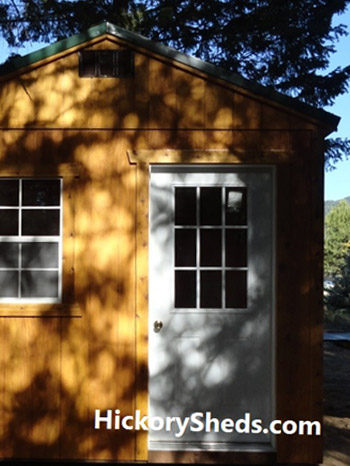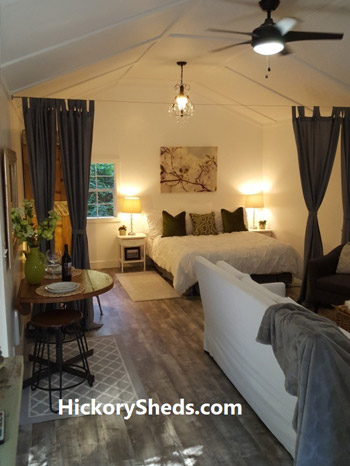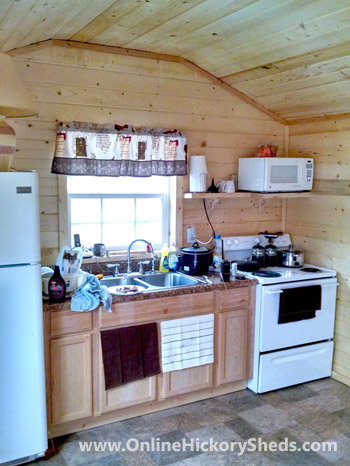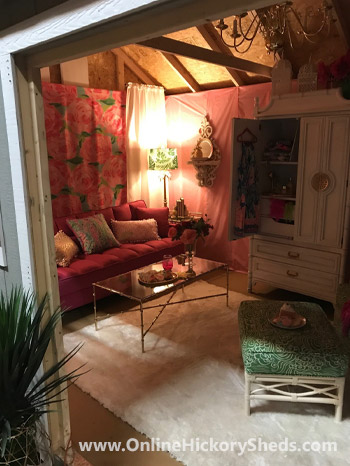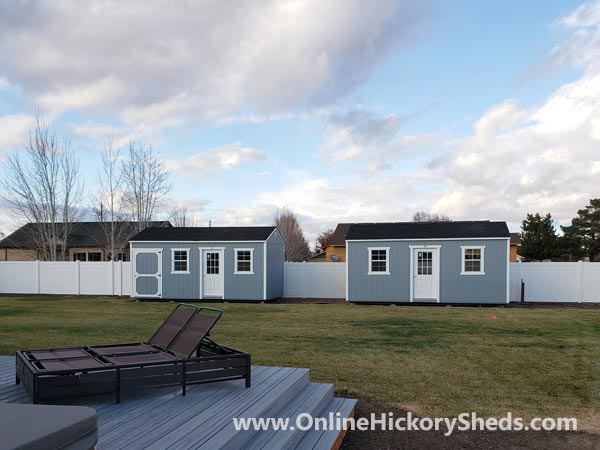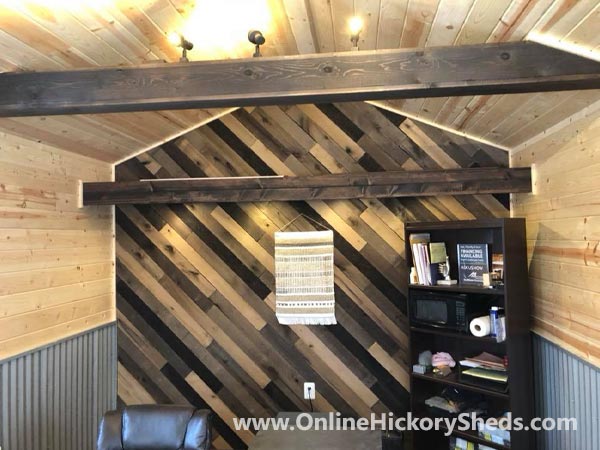 8'x10′   8'x12′   8'x14′   8'x16′   8'x18′   8'x20′   8'x24′
10'x10′   10'x12′   10'x14′   10'x16′   10'x18′   10'x20′   10'x22′   10'x24′
12'x12′   12'x14′   12'x16′   12'x18′   12'x20′   12'x22′   12'x24′   12'x26′   12'x28′   12'x30′   12'x32′   12'x34′   12'x36′   12'x38′   12'x40′
14'x14′   14'x16′   14'x18′   14'x20′   14'x22′   14'x24′   14'x26′   14'x28′   14'x30′   14'x32′   14'x34′   14'x36′   14'x38′   14'x40′
16'x20′   16'x24′   16'x28′   16'x30′   16'x32′   16'x36′   16'x40′
12′, 14′ and 16′ wides are measured across the eaves due to DOT regulations
60 PSF snow load is standard and 140 PSF is available along with engineered plans

24″ OC Studs & Trusses, Doubled Under Siding Seams
Comes water sealed with 4 Year Water Sealer in Honey Gold
Great choice for customers who want a Rustic Appearance
Not available in all areas.

5/8″ T1-11 Pressure-Treated Pine
24″ OC Studs & Trusses, Doubled Under Siding Seams
Pressure Treated and features a Limited Lifetime Warranty against termites and fungal decay
Comes water sealed with 4 YEAR water sealer in Honey Gold

16″ OC Studs / 24″ OC Trusses / Double Top Plate
Zinc Borate Treated throughout to help resist fungal decay and termite damage
Comes with a 50 YEAR LIMITED WARRANTY
Works with our Paint or Urethane Options
YOU CHOOSE: 5/8" T&G Untreated Plywood Flooring
OR 5/8" T&G Engineered Panels Flooring (same price).
UPGRADE: 3/4" Flooring.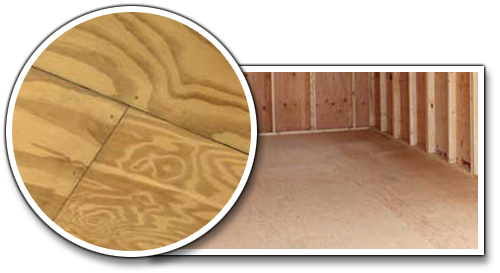 5/8" Tongue & Groove
Untreated Plywood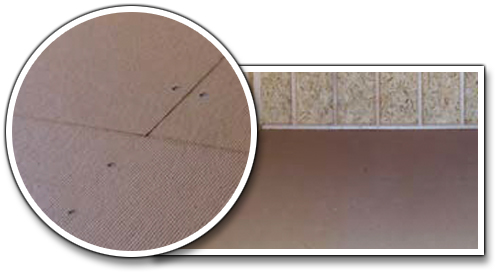 5/8" Tongue & Groove
Engineered Panels
Same price for Shingle or Standard Metal Roof.



Same price for Standard Metal or Shingle Roof.






Adds one week to the lead-time and has a slight upcharge.












One Standard Paint Color or Urethane Stain included in price.












One Urethane Stain or Standard Paint Color included in price.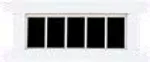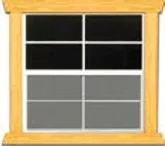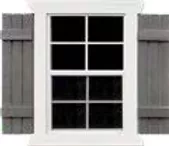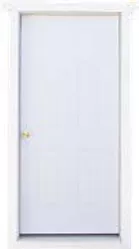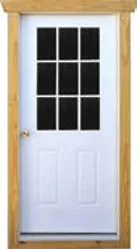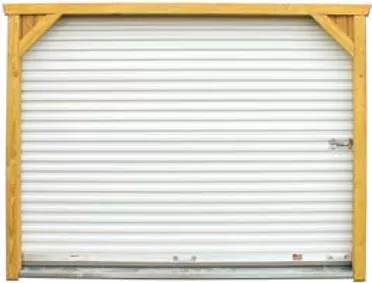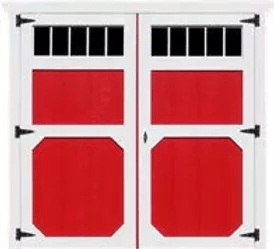 Double Barn Door w/10″x29″ Windows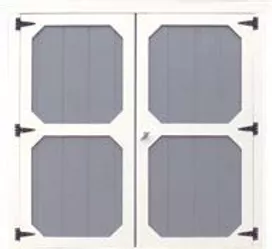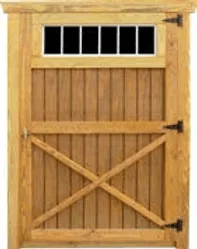 Single Barn Door w/10″x35″ Window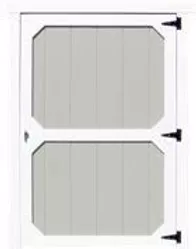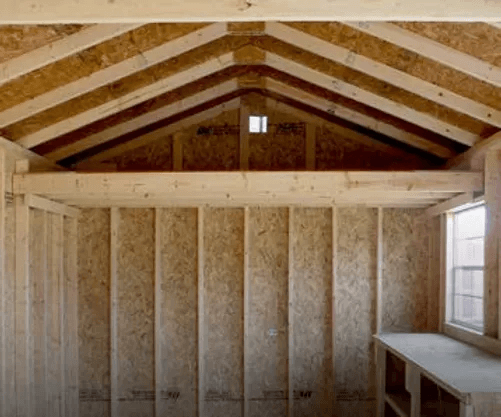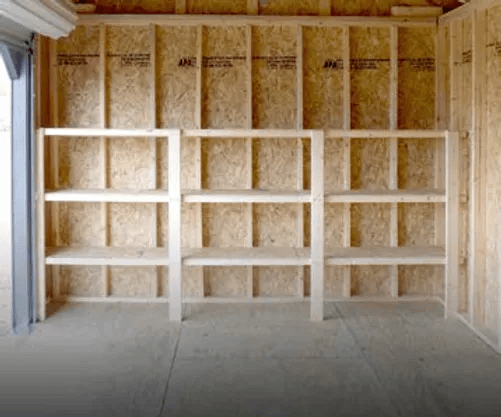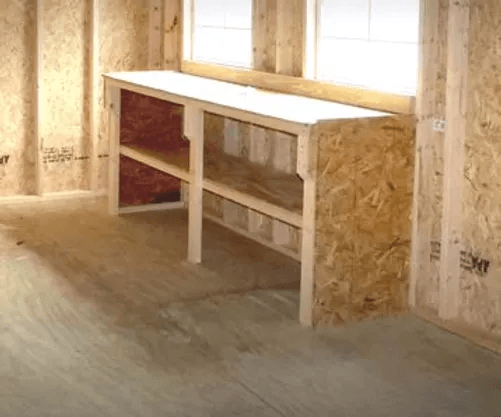 In North Idaho Old Hickory Delivers To
Saint Maries, Harrison, Lewiston, Orofino, Kamiah, Kooskia, Ketchum, Cascade, Grangeville, Cottonwood, Riggins, Kamiah
All of North ID and everywhere in between
And in North ID Delivery is FREE to Athol, Bayview, Bonners Ferry, Cocolalla, Clark Fork, Coeur d'Alene, Dalton Gardens, Hauser, Haven, Hayden, Hayden Lake, Hope, Kellogg, Moscow, Mullan, Naples, Osburn, Pinehurst, Ponderay, Post Falls, Potlatch, Priest River, Priest Lake, Princeton, Rathdrum, Troy, Twin Lakes, Sandpoint, Sagle, Spirit Lake, Stateline, Wallace, Worley
In Eastern Washington Old Hickory Delivers To
Brewster, Chelan, Coulee, Curlew, Ford, Fort Spokane, Goldendale, Ione, Kettle Falls, LaCrosse, Metalina Falls, Northport, Odessa, Republic, Ritzville, Saint John, Sprague, Rosalia, Steptoe, Tekoa, Twisp, Washtucna, Winthrop
All of Eastern WA and everywhere in between
And in Eastern WA Delivery is FREE to Airway Heights, Benton City, Cashmere, Centralia, Cheney, Chewelah, Clarkston, Cle Elum, Colbert, Colfax, Colville, Connell, Cusick, Davenport, Dayton, Deer Park, Elk, Edwall, Ellensburg, Ephrata, Fall City, Fredrickson, George, Grandview, Granger, Kennewick, Leavenworth, Liberty Lake, Loon Lake, Mead, Medical Lake, Moses Lake, Naches, Newport, Nine Mile Falls, Okanogan, Old Town, Omak, Othello, Otis Orchards, Parker, Pasco, Prosser, Pullman, Quincy, Reardan, Richland, Rockford, Royal City, Selah, Shelton, Soap Lake, Spangle, Spokane, Spokane Valley, Sunnyside, Tonasket, Toppenish, Tri Cities, Union Gap, Usk, Walla Walla, Wapato, Warden, Wenatchee, Winchester, Yakima, Zillah
In Montana Old Hickory Delivers To
The Bitterroots, Alberton, Big Sky, Conrad, Cut Bank, Deer Lodge, Glendive, Heron, Lewiston, Livingston, Noxon, Old Agency, Shelby
All of MT and everywhere in between
And in MT Delivery is FREE to Anaconda, Belgrade, Big Timber, Bigfork, Billings, Bozeman, Butte, Columbia Falls, Columbus, Fairview, Forsyth, Grantsdale, Great Falls, Hamilton, Hardin, Harlowton, Helena, Kalispell, Laurel, Lewistown, Libby, Lockwood, Lolo, Manhattan, Miles City, Missoula, Park City, Paradise, Plains, Pinesdale, Polson, Reed Point, Ronan, Sidney, Stevensville, St Ignatius, St Regis, Sulphur Springs, Thompson Falls, Three Forks, Townsend, Trout Creek, Troy, Victor, Ward, Whitefish, Worden, Wye
For more information, pricing, and delivery costs for your area, please email your name and the delivery address to
john@hickorysheds.com or pat@hickorysheds.com
Please call John or Pat Motley 7~days
Idaho 208-714-0396 ~ Wash 509-723-5880 ~ Mont 406-273-1331
For more information, pricing, and delivery costs for your area, please email your name and the delivery address to
john@hickorysheds.com or pat@hickorysheds.com
Please call John or Pat Motley 7~days
Idaho 208-714-0396
Wash 509-723-5880
Mont 406-273-1331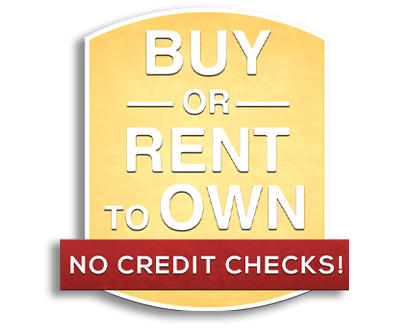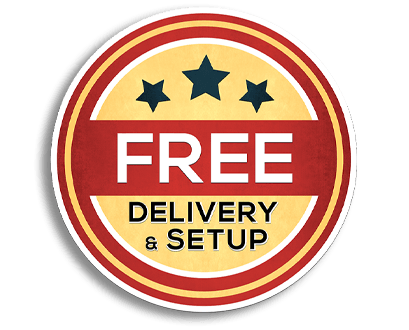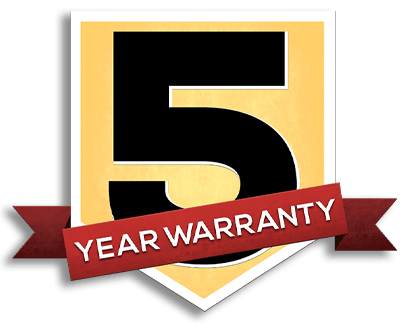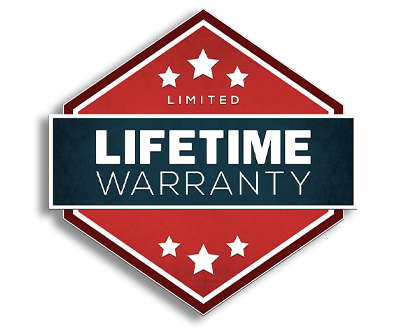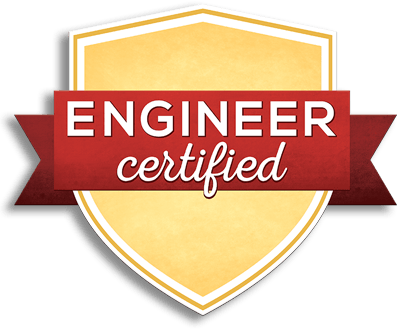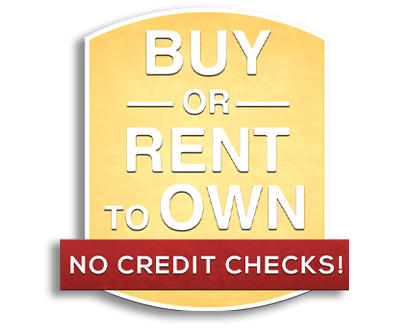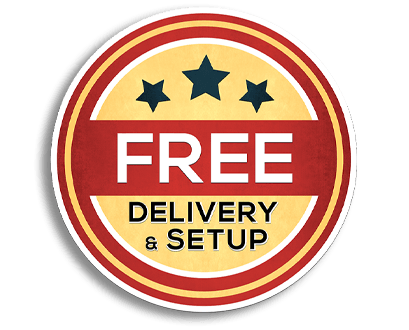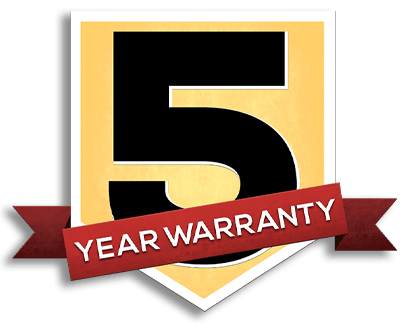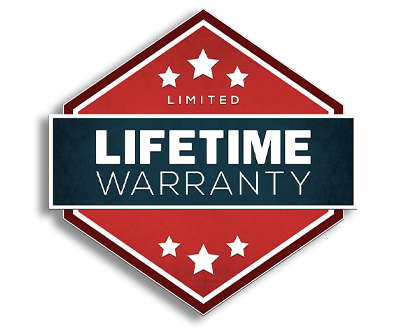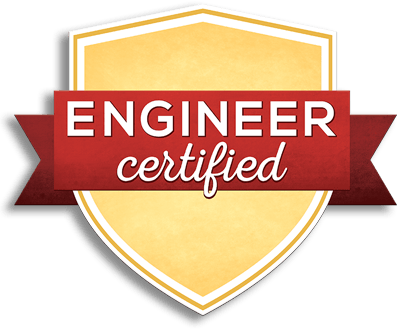 Old Hickory Sheds, LLC is the Premier Builder of Portable Buildings, Sheds, Barns, Cabins and Storage
© 1997-2022 "Old Hickory Sheds" and "Old Hickory Buildings" are registered trademarks of Hickory Buildings and Sheds, LLC Murfreesboro Tennessee